Tigrip® T-MAG Permanent load lifting magnet
Tigrip® T-MAG Permanent load lifting magnet
Capacity:
125 – 2.000 kg (flat material)
50 – 1.000 kg (round material)
The permanent lifting magnets of the T-MAG series are ideal for the simple, fast and therefore economical transport of heavy workpieces made of ferromagnetic material. The use of high-quality neodymium material enables a large lifting force with a low dead weight.
Both flat and round materials can be picked up. The load is not influenced mechanically. After switching off, there is only a small amount of residual magnetism.
Thanks to the simple Easy Switch operation, the lifting magnet can be switched over quickly and safely with just one hand. This reliable system enables not only safe and practical, but also faster work with up to 40% time savings. When activated, the operating lever is locked by a safety lock so that unintentional demagnetization is prevented.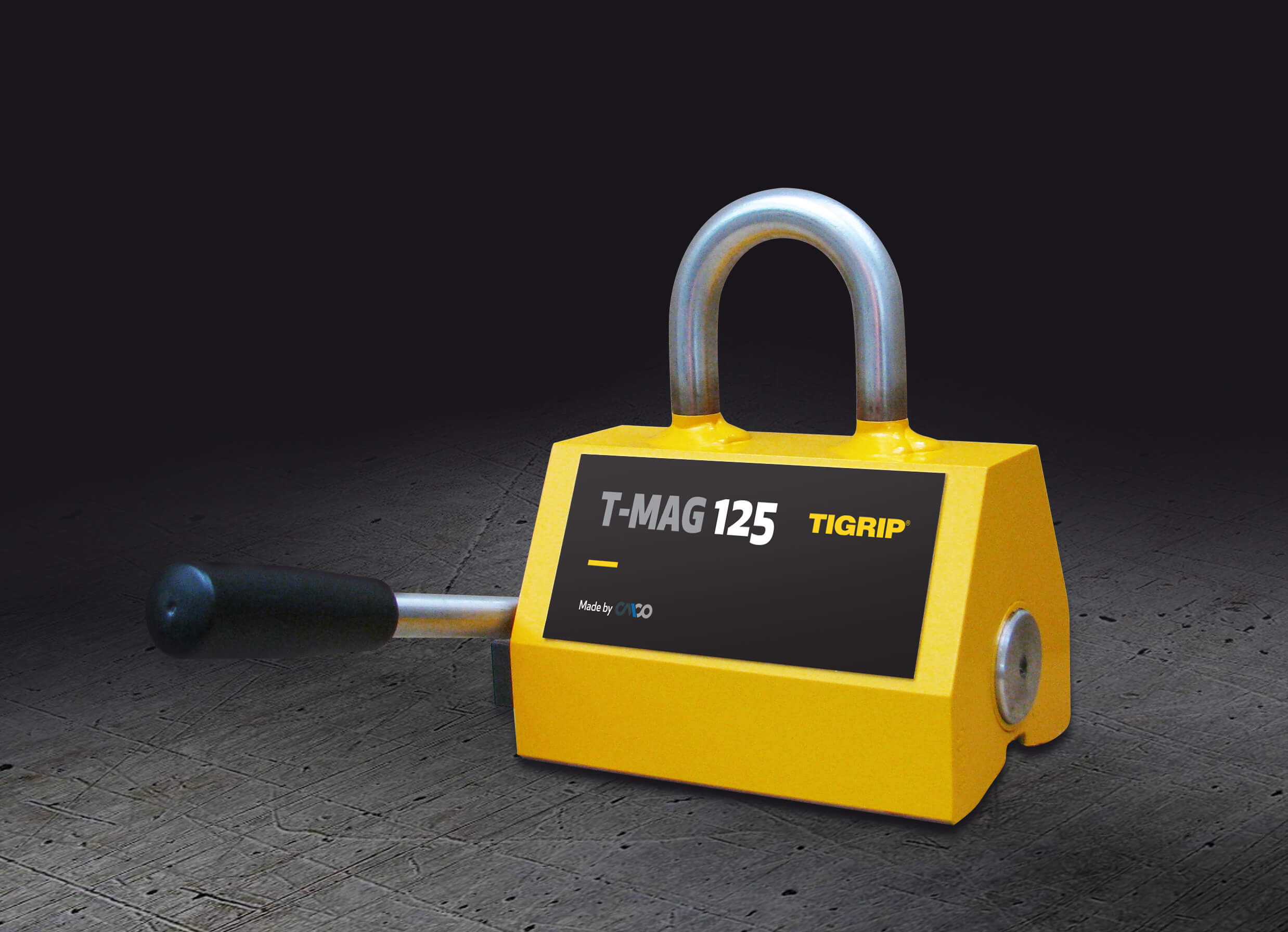 Any questions regarding this product?
Do not hesitate to contact us. We look forward to your inquiry and will gladly advise you!
Model
Art.-No.

Flat material:
max. capacity
Flat material:
min. material thickness with max .load capacity
Flat material:
max. material length
Round material:
max. capacity
Round material:
Diameter min. - max.
Round material:
max. material length
Test load
Weight
kg
mm
mm
kg
mm
mm
kg
kg
T-MAG 125
192047639
125
25
2500
50
50 - 100
2500
375
3
T-MAG 250
192047640
250
30
3500
125
60 - 200
3500
750
10
T-MAG 500
192047641
500
40
4000
250
65 - 270
4000
1500
21
T-MAG 1000
192047642
1000
60
4500
500
100 - 300
4500
3000
40
T-MAG 2000
192047643
2000
80
5000
1000
150 - 350
5000
6000
90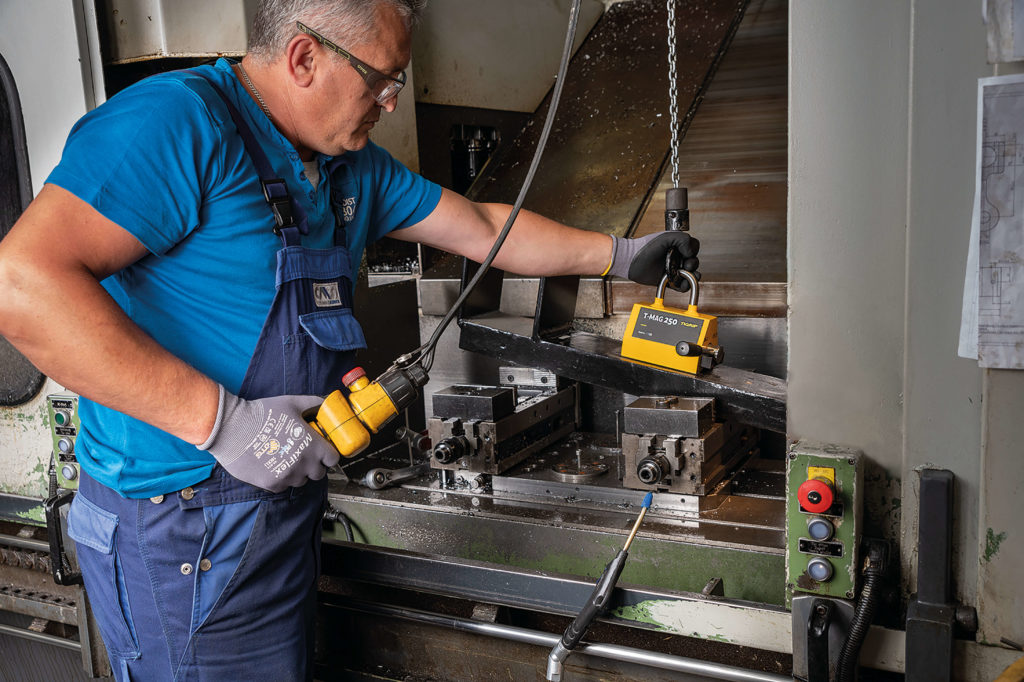 "Easy Switch"
ALLOWS SINGLE-HANDED OPERATION
DIVERSE POSSIBILITIES OF APPLICATION
The areas of application of this load handling device are very diverse and range from typical workshop applications to aligning tools in machining centers to rough use in steelworks, shipyards and even offshore.
USER FRIENDLY
The simple "EASY-SWITCH" switchover enables the magnet to be activated in the ON and OFF position with just one hand.
This user-friendly system increases efficiency and safety while working.
In addition, the large, robust hanging loop made of stainless steel allows it to be attached quickly to the load hook.
SERVICE
The TIGRIP T-MAG magnets are extremely reliable load handling devices.
Servicing and maintenance with the complete spare parts kit can be carried out quickly and easily by loosening the two screws. The magnetic system is guaranteed for 5 years.
PROCESSING CHARACTERISTICS
The simple "EASY SWITCH" switching enables one-hand operation.
Extremely robust and compact design
Low maintenance and service-friendly
Low dead weight
Low residual magnetism after shutdown
High temperature range up to max. 80 ° C
Made in EU
Safety factor 3: 1 according to DIN EN 13155