The Columbus McKinnon Group
Columbus McKinnon is a leading, worldwide supplier of material handling products and services for lifting, pulling, and slinging of loads. The key offering includes lifting equipment, load carrying devices, and slings.
Set against the backdrop of a successful 140 year tradition, the group is focused on meeting the constantly growing requirements of industrial and commercial users with excellent product, service, and process quality and thereby ensuring a cost-optimized and safe use of the products.
Headquarters of the Columbus McKinnon Group:
Columbus McKinnon Corporation
Corporate Headquarters
205 Crosspoint Parkway
Getzville, NY 14068, USA
www.cmworks.com

Yale is the leading brand for standard manual hoisting equipment in Europe. As early as 1877, Yale produced the first spur-geared hand chain hoist incorporating the Weston screw-and-disc type load brake – a design principle which is still used today.
In 1936, hoist manufacture started in Velbert with the production of the world renowned PUL-LIFT®. The product range as well as all new and further developments of Yale in the individual product sectors constantly raise the benchmark for quality, reliability and safety.
The comprehensive range of products includes hoists, cranes, load hoisting tackles and crane weighers, balancers, textile lifting and lashing equipment, material handling equipment and load moving systems, hydraulic tools, bolting technology as well as workshop equipment.
The prominently yellow products, which are delivered ready for operation, are used world-wide for the most varied industrial and commercial applications.
Pfaff-silberblau – the name of this company with its longstanding tradition and history of more than 140 years has become the synonym for power, dynamics and safety.
Material handling equipment as well as rope winches and rack and pinion jacks of the Pfaff-silberblau brand are used wherever high loads need to be lifted, turned or moved in an environment with demanding safety requirements.
In logistics, industrial production or outdoor applications, the innovative products and application-specific designs provide the solution to numerous lifting applications – as standard products, tailor made solutions or as complete systems.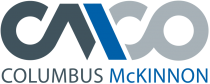 The brand Yale has already been a successful partner within the international corporate network of Columbus McKinnon Corporation for more than ten years. Since 2008, the brand Pfaff-silberblau has extended the portfolio of products and services of the company.
Today, the two trademarks of Yale and Pfaff-silberblau are combined under the name of Columbus McKinnon. This enables us to offer a comprehensive product pallet for many challenging applications.
Experience, know-how and innovative strength combined with a far-reaching understanding of user requirements is the formula for success on which our portfolio of hoisting and material handling equipment products has been based for a long time.
Our tradition of close customer relationships and customer services as well as our constant striving for optimisation provide the basis for all new and further developments of the Yale and Pfaff-silberblau brands.
As a premium supplier of two leading brands, we have set ourselves the target of offering our customers high-quality hoisting and material handling equipment that is designed for moving, lifting, positioning and securing heavy loads both ergonomically and safely.
*These subsidaries belong to the matrix-certification –system according to EN ISO 9001.ff.